Capstock Trading LoungeThe first Trading Center in Mauritius
You can now have your own trading station in an environment that has been specifically designed for trading and with market experts intervening on a daily basis to help you maximize on investment opportunities. Now open from 10:00 – 19:00, visit us at Hub 40, French Hub, 3rd Floor, Grand Baie Coeur de Ville, Super U, Grand Baie.
Tailor-made Trading Desks
Each Trading Station has been designed to deliver an unparalleled trading experience. Whatever your trading style may be, we have the right interface for you. Customize your platform and trade intuitively and effortlessly with real-time access to comprehensive news, research, fundamentals, advanced charting and market data.
Dedicated Support & Training Session
Our Product Specialists are there to assist you and ensure that no stones are left unturned during your session in the lounge. From mastering the platform to improving your trading skills in fundamental & technical, we are here by your side. Focus on your trading and leave the rest to us.
Live Market Analysis
Traders need to have a healthy thirst for information and a desire to find all the relevant data that impacts the securities they trade. We have therefore partnered with Market Experts of international repute who will be intervening on a daily basis to provide you more insights into the dynamics of the markets. Check our Facebook page for weekly timetable.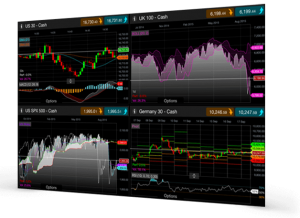 Join our community
In a relaxed and appealing environment, meet fellow traders and discuss the markets. With the wide range of instruments that we provide, get to know what other traders are interested in and a great opportunity to share ideas, facilitating communication among traders.
The FX & CFDs PlatformFor Best Spreads & Leverage
This platform provides one of the most competitive spreads for FX & CFDs and has been designed to suit the various trading strategies adopted by traders in these markets. CFDs include Indices, Commodities & Treasuries.