ETFs CFDs Get exposure to a basket of securities through a single product.
Trade more than 1000 ETFs & ETCs in CFDs with a wide range of underlying from stocks to bonds to commodities.
Global Access
With ETFs & ETCs you get exposure to a basket of securities through a single product. This gives you diversified markets access to sectors or regions otherwise hard to reach through individual securities.
Efficient Diversification
Diversify your portfolio and spread risk – while gaining underlying exposure to Stocks, Bonds, Commodities or Currency indices with a particular focus, such as region, emerging markets, sectors or industries.
Your ETFs Trading Platform
A platform that allows you to make the most of your trading and keep your finger on the pulse of the Stock Markets. Use our Reuters news to access financial data and the free Pattern Recognition software to spot potential opportunities.
ETFs Commission Structure
Analyse and trade ETFs in Global financial markets directly from your platform.
| Country | Commission | Min. Commission | Trading Hours (GMT) |
| --- | --- | --- | --- |
| US | 2.5 cents / share | USD 15 | 14:30 - 21:00 |
| EU | 0.20 % | EUR 7 | 08:00 - 16:30 * |
* some exchanges might have breaks or may close earlier.
Trade the Financial MarketsLearn more on what we have to offer
Shares
More than 9,000 shares CFDs from major financial markets.
ETF
More than 1000 ETFs available. Get exposure to a basket of securities through a single product.
Indices
Trade the world's most popular indices on our platforms; US, EU, UK & Asia.
Forex
Over 300 currency pairs, including Major, Minor & Exotic pairs.
Commodities
Energy, Metals & Agriculture (Oil, Gas, Gold, Silver, Sugar, Wheat and more)
Treasuries
Trade government debt instruments such as gilts, bunds and treasury notes via CFDs.
Discover the rates from our range of products
The FX & CFDs PlatformFor Best Spreads & Leverage
This platform provides one of the most competitive spreads for FX & CFDs and has been designed to suit the various trading strategies adopted by traders in these markets. CFDs include Indices, Commodities & Treasuries.
Award-winning platforms
Whatever your trading style may be, we have the right interface for you. Our state-of-the-art trading platform helps you trade intuitively and effortlessly with real-time access to comprehensive news, research, fundamentals, advanced charting and market data.
Works on all devices
Take your platform with you, to use when you need it. Whether you prefer to trade from a PC, tablet, iOS or Android device, with this single platform you can trade at your own convenience and enjoy a seamless trading experience with all settings carried over between devices.
Advanced charting technology
Our fully-integrated technical analysis suite has been developed in-house and incorporated into our award-winning charting package, to deliver all the tools you need to analyse the financial markets. You can quickly switch between chart intervals, access over 80 technical indicators and drawing tools to make the most of market opportunities.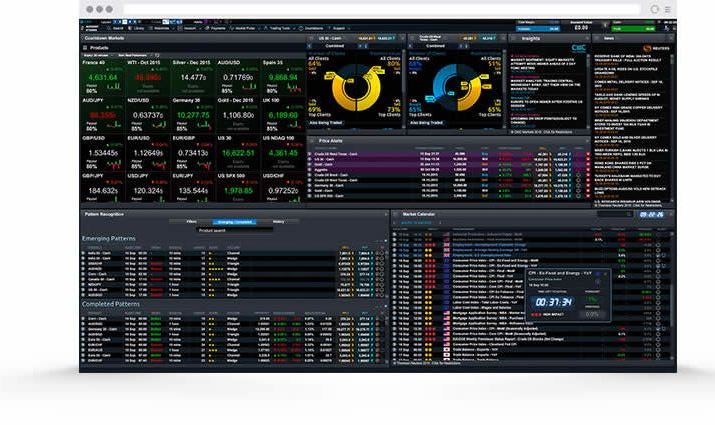 Fully customizable
Set up the platform the way you like it. Our award-winning platform allows you to completely customise your design layouts, offering the ability to save and switch between up to five different trading layouts. Our layouts, charts and technical indicators are all customisable, offering you the ability to set up your charts and technical analysis exactly as you like.
Portfolio management system
Take greater control of your execution. Place or close trades, edit stop-loss and take-profit levels directly from your charts. This simple-to-use feature allows you to use historical price action to make better-informed entry and risk management decisions.