Opening a Live AccountBringing Global Financial Markets to your fingetips
With over 20,000 instruments to choose from, you have the world's trading opportunities at your fingertips. Capstock provides an easy way to explore different strategies & instruments.
How to open your Trading Account?
Opening a trading account with Capstock is fast and easy. You can complete the account opening form online or download our account opening application from here.
Whether you are a novice trader looking to practice your strategies or a veteran trader seeking a world class complete trading interface, open your trading account now.
What you need to get started:
Trade the Financial MarketsLearn more on what we have to offer
Shares
Access more than 9,000 Shares CFDs from major financial markets.
ETF
More than 1000 ETFs available. Get exposure to a basket of securities through a single product.
Indices
Trade the world's most popular indices on our platforms; US, EU, UK & Asia.
Forex
Access to more than over 330 currency pairs, including Major & Minor pairs.
Commodities
Over the years, commodities have become very popular among traders.
Treasuries
Trade government debt instruments such as gilts, bunds, bonds and treasury notes via CFDs.
Discover the rates from our range of products
The FX & CFDs PlatformTrade in indices, commodities and treasuries
This platform provides one of the most competitive spreads for FX & CFDs and has been designed to suit the various trading strategies adopted by traders in these markets.
Award-winning platforms
With over 80 technical indicators, chart types and drawing tools built in to our award-winning charts, you can access all the features you need to analyse price movements and conduct detailed technical analysis.
Works on all devices
We've combined the touchscreen technology of the iPad with our Next Generation trading platform features to provide the ultimate portable trading experience. Make the most of the iPad's bigger mobile screen with intuitive layouts, advanced trading tools and charting.
Advanced charting technology
Our fully-integrated technical analysis suite has been developed in-house and incorporated into our award-winning charting package, to deliver all the tools you need to analyse the financial markets. You can quickly switch between chart intervals, which range from one second through to one month.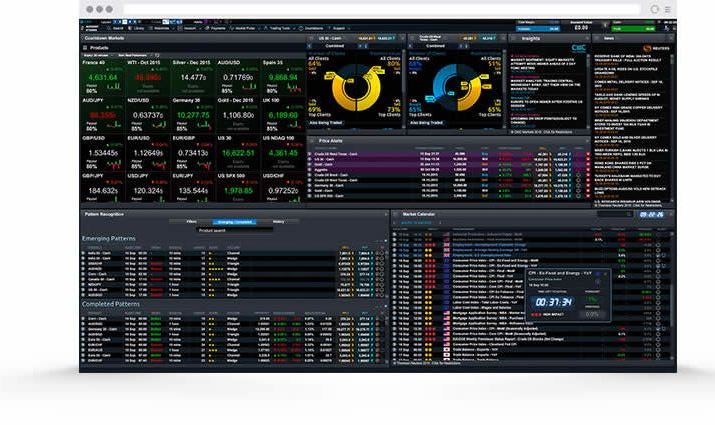 Fully customizable
Set up the platform the way you like it. Our award-winning platform allows you to completely customise your design layouts, offering the ability to save and switch between up to five different trading layouts. Our layouts, charts and technical indicators are all customisable, offering you the ability to set up your charts and technical analysis exactly as you like.
Portfolio management system
Take greater control of your execution. Place or close trades, edit stop-loss and take-profit levels directly from your charts. This simple-to-use feature allows you to use historical price action to make better-informed entry and risk management decisions.